Descrizione del prodotto
Yangzhou Borui Electric Lighting Co., Ltd.
3.7V 4000mAh lithium battery li-ion battery li-polymer battery
1. Feature:


Uniqueness of Borui

Single Battery Cell



Uniqueness of Borui

Battery Pack




1

Safety

1

Modular Design




2

Long Cycle Life

2

Pack Design with Light Weight




3

Low Internal Impedance

3

Series and Parallel Connection Technology




4

High Energy Density

4

Precise Temperature Detection




5

High Power Density

5

Experimental Date Analysis




6

Excellent Temperature Performance

6

Without Wiring Harness Structure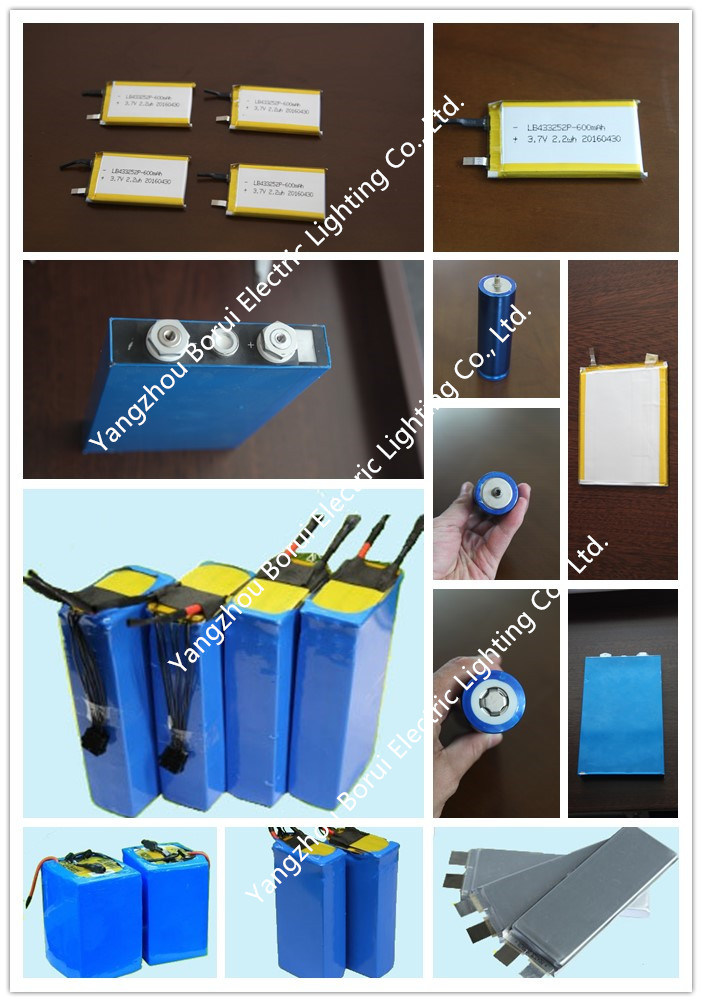 2. Specification introduction:
3.7V 4000mAh lithium battery li-ion battery li-polymer battery

1.Specification:

a. Type: li-po803445 -3P li-polymer battery 3.7V550mAh
b. Nominal Capacity: 550mAh 0.2C Discharge
c. Nominal Voltage: 3.7V
d. Dimension:
Thickness(Max):8.1mm,
Width(Max):34.2mm;
Length(Max):45.1mm
Cell Weight:Approx 50g
e. Cycle Life:Greater than or equal to 300 times
f. Maximum discharging current: 0.2C
h. DischargeCut-off Voltage:2.75V~3.0V
i. Impedance: ≤200mΩ
j. Operating Temperature:Discharge: -20°C~+60°C ;Charge: 0 °C~ +45°C



Other kinds of Dimensions and capacity are available
No.

Mode No.

Battery mode

Model

Capacity

Nominal Voltage

Dimensions (mm)

Weight

Internal Impedance

Typical

Nominal

Thickness

Width

Height

Approx.(g)

(mAh)

(mAh)

(V)

(±0.2)

(±0.8)

(±0.8)

(mΩ)

1

1

XX1147

501147

235

220

3.7V

4.8

11.0

46.7

5.0

140

2

601147

300

280

3.7V

5.8

11.0

46.7

6.5

85

3

2

XX1119

251119

50

45

3.7V

2.3

11.0

18.7

2.0

450

4

3

XX1129

301129

75

70

3.7V

2.8

11.0

28.7

2.5

350

5

401129

105

100

3.7V

3.8

11.0

28.7

3.0

250

6

4

XX1211

451211

35

30

3.7V

4.3

12.0

10.7

1.3

550

7

5

XX1225

501225

120

110

3.7V

4.8

12.0

24.7

3.0

250

2.Product Advantages:

1. High operation voltage, Li-ion batteries produce 3.7 volts.
2. High energy density.
3. Long cycle life, more than 300 charge/discharge cycles ( 800% capacity remained ).
4. Minimal self-discharge, less than 10% monthly.
5. Wide temperature range, operation from :-20°C~+60°C
6. Be charged & discharged at anytime because of non-memory.
7. Environmentally compatible.
8. High level of safety, vision Lithium ion batteries catch no fire and cause no explosion in breaking experiment, with acupuncture, smash, drop, and so on.
3. Application:
1, Digital Products: Bluetooth, MP3,MP4,P-DVD, Cellular Phone
2, Portable Electronics:Notebook Computers, LCD light, Digital Camera, Emergency Lighting
3, Backup power supply, Medical Device,Electric nipper
4, Electric bicycles, HEV, EV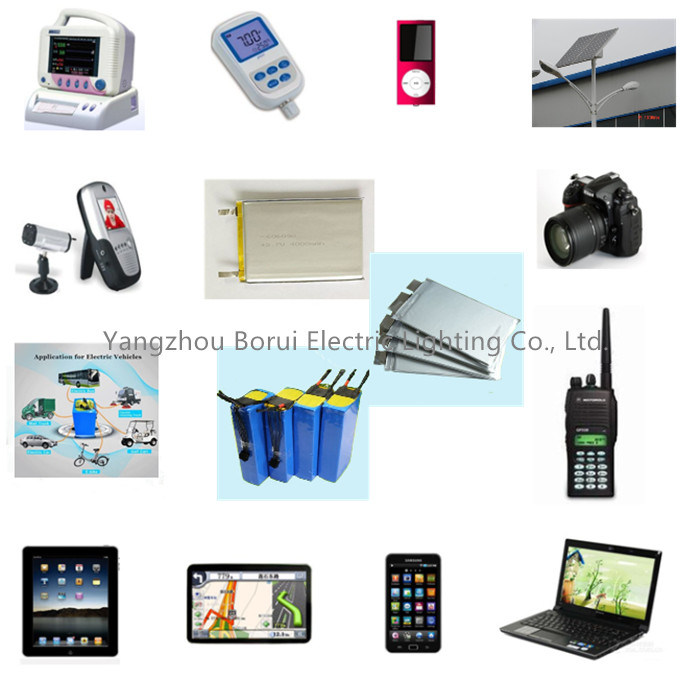 4. Factory Introduction
About us:
1.Professional electric bike li-ion and LiFePO4 battery pack for over 11 years,have own factory.
2.Professional R&D team to support,strict quality control system and best after sales service.
3.Use the imported cell for battery pack
4.Offer OEM service for customer small order.
5Quickly action & response.
6.Competitive price.
Remark: we can design other battery pack according to customer's need, we can also design very light battery pack with other unregular square case or we can fit our batteries into your case.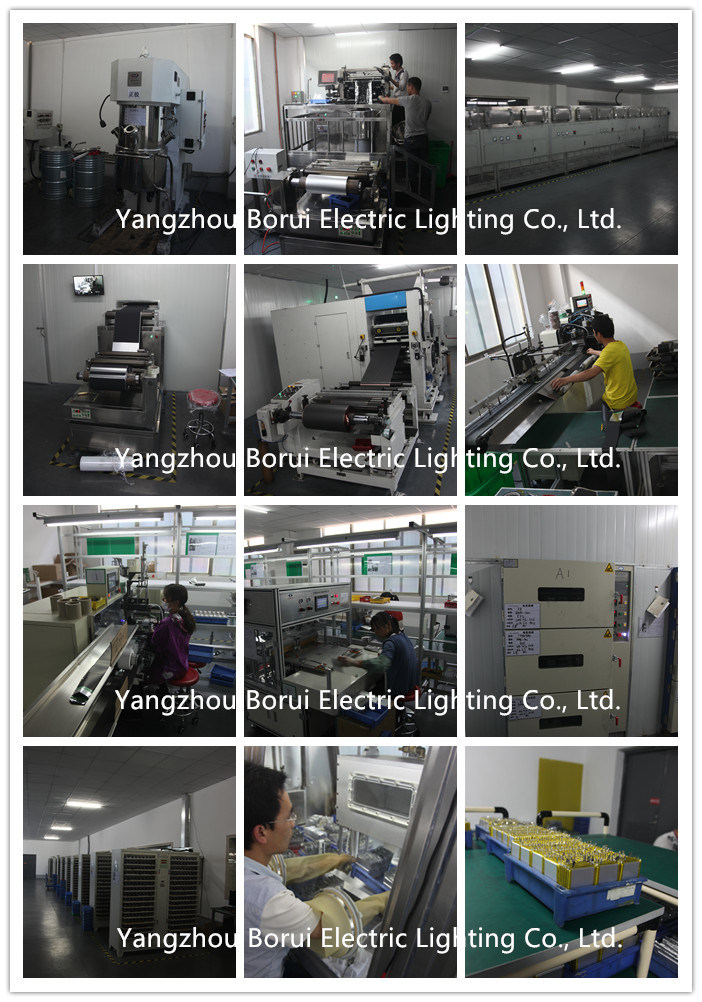 5. How to order?
1. Please let us know what kind of model you need?
2. We make invoice for you.
3. Please check and confirm the invoice.
4. Once confirmed the order, please pay it soon.
5. After payment, all goods will be sent to you about 7-25 days.Payment: T/T, L/C,WestUnion, MoneyGram,PayPal.
6. Contact Us:
Tel: 86-532-83978013
Fax: 86-532-83978023
Mob: 86-15192600825


7. Service:
1. Reply your inquiry in 12 working hours.

2. Experienced staffs answer all your questions in fluent English.

3. Customized design is available. 4. Exclusive and unique solution can be provided to our customer by our well-trained and professional engineers and staff.

5. Special discount and protection of sales are provided to our distributor.

6. Professional factory : We are manufacturer, specializing in producing all kinds of steel poles for more than 15years, competitive with good quantity.
7 Sample: We can send out sample for test in one week if the order quantity is big enough. But the shipment charges is usually paid by your side, the charges will be rebounded when we have formal order.
8. As an honest seller, we always use superior raw material, advanced machines, skilled technicians to ensure our products to be finished in high quality and stable feature. Welcome to contact us or visit our company.
If you are in need of our products, you may let us know and we will offer you good products with great quality and service.

8. FAQ:
1. How would the goods be shipped?
We ship via UPS,DHL ,FEDEX and sea transportation normally.

2. Can you print my picture or logo on the battery cover?
Yes, OEM is available,we can print your picture or logo on the battery case, and you can offer your logo.

3. What's your warranty for battery?
Our battery the warranty time is 5 years .
4.Can I force-discharge lithium batteries?
When batteries are force-discharged with an external power source, the voltage drops to under 0 volts (which is called voltage reversal ) and internal gas is generated. This can lead to swelling, heat generation, leakage, rupture or fire.
5.Can I use Lithium batteries mixing with other battery types?
If different types of batteries are used together, or new batteries are used with old ones, the difference in characteristics of voltage, capacity, etc., may cause over-discharge of the battery which is exhausted first, leading to swelling, bursting or fire.
6.Where should lithium batteries be stored?
Lithium batteries should be stored in a cool, dry place that is not exposed to direct sunlight and has minimal temperature variation. Storage in areas subject to high temperature or humidity may cause deterioration in battery quality and durability. To avoid short circuiting batteries during storage, be sure that the positive and negative terminals do not come into contact with each other.
7.What is a short circuit?
If the positive and negative terminals of a battery come into contact with each other or with a conductive metallic object, this can cause a short circuit, which generates heat. If cells or batteries are stacked on top of each other or mixed, the resulting short circuit can lead to heat generation, leakage, rupture, and possibly fire.